On March 28, 2011, the Washington DC National Cherry Blossom Festival will start and run for two weeks through the April 10, 2011. During this period, over 200 cultural performances and 90 special events will take place. Every year here at Washingtondchotels.com we receive thousands of bookings from visitors stay at Washington DC hotels, many for the National Cherry Blossom Festival.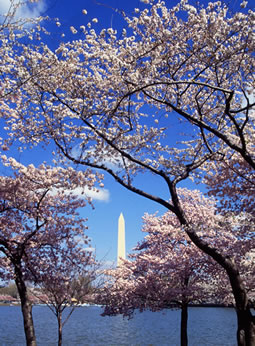 As thousands of cherry trees dotting the Washington DC tidal basin come into bloom and great us with their stunning beauty, we should take a moment to remember the massive suffering and deprivations of the Japanese people after their devastating earthquake and tsunami. Japan is one of America's greatest friends and allies, and we encourage you to make donations to Japanese Relief funds.
Washington, DC's cherry trees were a gift of friendship from Japan in 1912. 3020 Japanese cherry trees representing 12 different varieties were specially cultivated from Tokyo's prized cherry tree park along the Arakawa River in Adachi Ward, and donated to the United States. The first two trees, Yoshino cherry trees, were planted by the First Lady, Helen Herron Taft, and the wife of the Japanese Ambassador, Viscountess Chinda, on the northern bank of the Tidal Basin on March 27, 1912. These original trees are located approximately 125 feet south of Independence Avenue, SW near the John Paul Jones statute. After planting the trees, Mrs. Taft presented a bouquet of "American Beauty" roses to Viscountess Chinda in a small ceremony. This ceremony became the start of Washington DC's annual Cherry Blossom Festival.
If you intend on visiting Washington DC this spring and happen to see cherry trees in blossom, stop and remember our Japanese friends and take a moment to make a donation. Millions are counting on you.
Japanese Earthquake Relief Funds – Where to Donate
American Red Cross Japan Earthquake Donations or Text "REDCROSS" to 90999 to Give $10

Salvation Army Japan Earthquake Donations or Text "QUAKE" to 80888 to Give $10.
National Cherry Blossom Festival Schedule of Events:
DAILY EVENTS:
Performances on the Stage at Sylvan Theater (begins at Noon daily)

Macy's Cherry Blossom Show (Mon. - Sat., 10 AM - 8 PM; Sun., Noon - 6 PM)
SCHEDULED EVENTS: (also based on information from the Official National Cherry Blossom Festival)